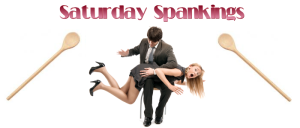 Hi Everyone!!
Happy Halloween!
I have a snippet from the perfect, paranormal erotic book that you should be reading tonight after the trick or treaters are finished reading your book. This snippet comes from
The Demon's Woman
, by Melody Parks.
In this snippet, Amy keeps pushing Landon's buttons, until he finally decides that she's in desperate need of a bare bottom spanking.
"Then I suggest you start acting it and take your spanking like a good girl." He place a few carefully aimed spanks to the back of her thighs, listening to her howl and gasp for breath. "I'll behave… just… oooh… stop!"
But he didn't stop. He moved back up to her plush round bottom and peppered each cheek until she was sobbing and eventually he felt her body go limp, giving in to the punishment he delivered. He knew then she'd had enough and stopped, smoothing over the heat he'd created. "I'm… I'm sorry," she uttered in a tiny voice that made his heart melt.
"Shhh," he soothed, turning her and pulling her up into his lap.
If you thought that snippet was hot, you should check out the rest of the book. It really is the perfect book to read during Halloween!
Buy Links
Amazon
Barnes and Noble
AllRomance
Kobo
Happy Halloween!